The Page Directory and Page Table
The Page Directory and Page Table
Figure 2-13 shows the page directory, a few page tables, and some memory pages. There is only one page directory in the system. The page directory contains 1024 doubleword addresses that locate up to 1024 page tables. The page directory and each page table are 4K bytes in length. If the entire 4G byte of memory is paged, the system must allocate 4K bytes of memory for the page directory, and 4K times 1024 or 4M bytes for the 1024 page tables. This represents a con­siderable investment in memory resources.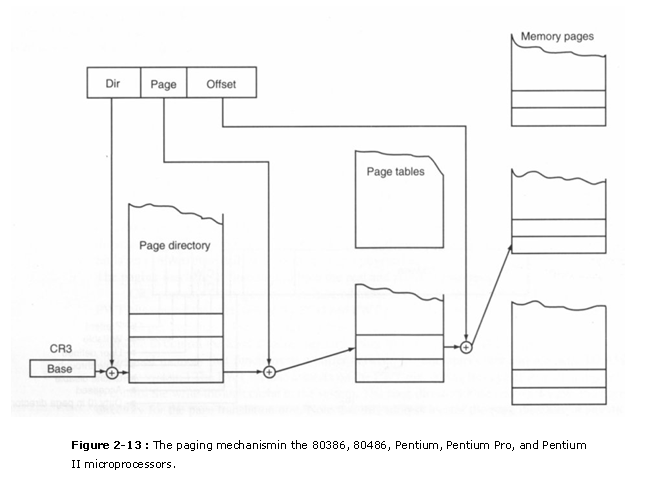 The DOS system and EMM386.EXE use page tables to redefine the area of memory be­tween locations C8000H—EFFFFH as upper memory blocks. It does this by repaging extended memory to back-fill this part of the conventional memory system to allow DOS access to addi­tional memory. Suppose that the EMM386.EXE program allows access to 16M bytes of ex­tended and conventional memory through paging and locations C8000H—EFFFFH must be repaged to locations 110000—138000H, with all other areas of memory paged to their normal lo­cations. Such a scheme is depicted in Figure 2-14.
Here, the page directory contains four entries. Recall that each entry in the page directory corresponds to 4M bytes of physical memory. The system also contains four page tables with 1024 entries each. Recall that each entry in the page table repages 4K bytes of physical memory. This scheme requires a total of 16K of memory for the four page tables and 16 bytes of memory for the page directory.
As with DOS, the Windows program also repages the memory system. At present, Windows version 3.11 supports paging for only l6M bytes of memory because of the amount of memory re­quired to store the page tables. On the Pentium and Pentium Pro microprocessors, pages can be ei­ther 4K bytes in length or 4M bytes in length. Although no software currently supports the 4M-byte pages, as the Pentium II and more advanced versions pervade the personal computer, operating sys­tems of the future will undoubtedly begin to support 4M-byte memory pages.